Ultrasound Clinic Singapore
Looking for an ultrasound clinic in Singapore? Look no further ! We provide you with Ultrasound services, in particular, Point-Of-Care Ultrasound / Sonography to answer a specific diagnostic question, ensuring that you get nothing but the very most from our services. We have an ultrasound for a wide range of different conditions, from pregnancies to detecting potentially life-threatening conditions. However, it is not meant to be a comprehensive body check up.
Why would I need an Ultrasound Scan?
Ultrasound scans are used for a wide range of different procedures and are completely painless, making use of high-frequency sound ways to create images from inside the body. The most common use for ultrasound is for pregnant women, in which they are used to check up on babies in the womb without putting the baby at any risk.
Our ultrasound trained doctor will use his knowledge and experience to ensure that your time with us is nothing less than flawless. Our clinic with ultrasound can be used for a wide range of different conditions, allowing us to gain greater insight about a particular injury or illness. By doing this, we can provide you with the advice regarding how you can recover and ensure that your recovery is as smooth as possible. Throughout your scan, our team will provide you with comfort and reassurance, ensuring that you feel completely relaxed. They will go through everything you see on the screen, making sure that you fully understand what you are looking at. After all, what is the point of the scan if you don't understand the results?
Where Are The Most Common Areas To Scan?
At our ultrasound clinic in Singapore, we have scanned a wide range of different body parts on various different patients. The most common use for our ultrasound is for pregnant women, in which it is used to help study the health of a fetus. It is also used to study the pelvic organs as well as the different muscles and tendons within the body. Additionally, we often use the scan to detect any narrowing blood vessels, allowing us to prevent cardiac problems in the long run. None of our techniques requires needles, injections or any other discomforts, making them significantly safer than other scans such as x-rays as you will not be exposed by any ionizing radiation throughout the process.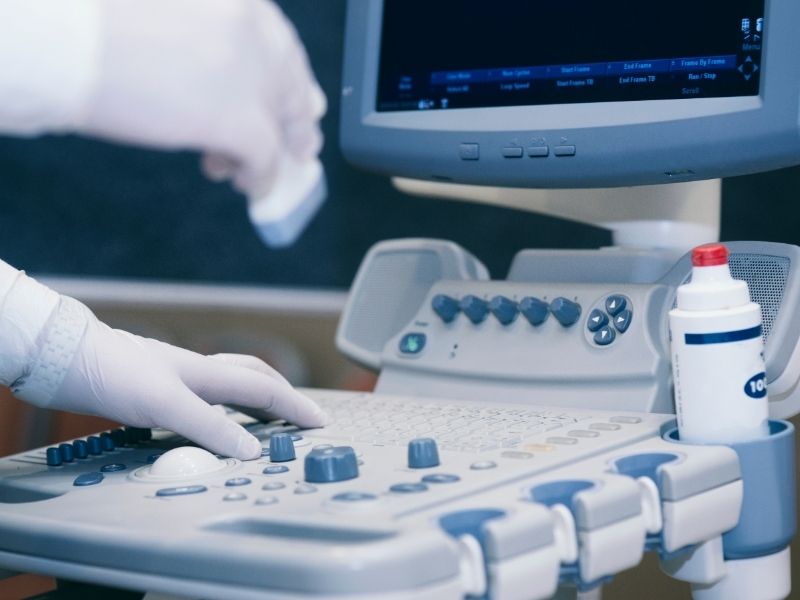 Ultrasound During Pregnancy
In our Singapore clinic, we use our ultrasound clinic for pregnancy. It is a fantastic way to see your baby, ensuring that your little one is as healthy as possible. The time to conduct your first ultrasound scan is at twelve weeks, in which your baby is of a good size for the scan to show the possible results. This helps us gain an insight into how your baby is doing, ensuring that their living conditions are healthy so they can successfully develop.
Between the 24th and 28th weeks of pregnancy, we will be able to produce the scans. At this stage, your baby will have developed enough natural fats to be seen vividly, ensuring that we get the picture possible. Your baby is also of optimal size at this point, which means that you will receive the possible view of their face and body.
Our team have conducted thousands of scans, ensuring that we can provide you with the scan you are looking for, specially tailored to your preferences. Each scan is conducted in the safest possible environment, ensuring that you feel comfortable throughout. Call up asking when our ultrasound doctor is on and discover how our team can help you!
Ultrasound at the Clinic, Bedside Ultrasound
There are also various other purposes of the clinic with ultrasound . In our clinic, we use the multi-frequency ultrasound probe frequently for applications such as:
Detecting life threatening conditions: appendicitis, ectopic pregnancies, gallbladder infections, localising internal bleeding.
Assessment of lumps and bumps – to determine if they require urgent removal.
Holistic Assessment of chronic conditions such as hypertension and diabetes – imaging the liver and kidneys for long term damage or the aorta for aneurysms.
Men's and Urological Health – prostate measurement and grading in Benign Prostatic Hyperplasia, measurement of post-void bladder volume, assessment of groin/ testicular lumps and bumps
Women's Health – confirmation of pregnancy, real-time videos of fetus, placenta lie, assessment of liquor. Detection of fibroids, ovarian cysts ( not meant for follow-up of known conditions that require advanced scans)
Musculoskeletal Medicine – imaging of shoulder rotator cuff tears, frozen shoulder, knee swelling, joint swellings.
Various other conditions where indicated.
Frequently Asked Questions
Once your pregnancy has been confirmed, your doctor will begin giving you vitamins like folic acid, calcium, and iron to help your body prepare for the pregnancy.
Our doctor will examine the image as he is doing the ultrasound and you are able to receive your results immediately on the same day.