Erectile Dysfunction Clinic
Erectile Dysfunction Clinic in Singapore
As we grow older erectile dysfunction can become a problem for many of us. It is caused by a wide range of different problems, many of which we may naturally develop as we grow older. We run an erectile dysfunction clinic in Singapore, allowing us to quickly diagnose your symptoms and causes and provide you with a wide range of fast and effective treatments. Our male ed clinics are specially designed to provide you with a confidential service that you can rely on, allowing you to deal with your symptoms right at their cause. Our services have been designed around a number of popular symptoms, allowing us to tailor our services to your personal preferences.
At our male ed clinic, we know that erectile dysfunction can be a very sensitive subject for some individuals. Many men feel embarrassed that they have the condition and as a result, many choose not to see a doctor at all. This results in their condition only deteriorating further, which can cause a number of further health issues, especially when it comes to mental health. Our services are completely confidential, meaning that what is discussed with our doctors stays confidential with them. That way, you can rest assured knowing that you're receiving a trustworthy ed treatment in Singapore, allowing you to recover as soon as possible.
There is no general cause for erectile dysfunction, although it does become more common as we grow older. Whilst age may be a contribution there are many other factors that can cause the disorder too. It is usually multiple causes that result in the condition. By dealing with each of these on an individual basis, we can tackle the problem at its root. The causes can be categorised by physical, mental and lifestyle, all of which can cause the problem. Here are some of the most common causes that you should look out for.
Physical causes are usually a direct result of a disease, injury or weight problem which results in the development of erectile dysfunction. One of the leading causes of ed is a cardiovascular disease. Such diseases can be a result of being overweight, causing the heart to overwork and push too hard. As a result, not enough blood goes to the genitalia which causes the symptoms. The way to resolve this is to exercise more and lose weight. As you lose weight and fight your cardiovascular disease, it is likely that your ed symptoms will also significantly improve too.
Another common cause of ed is diabetes. Diabetes, much like cardiovascular diseases are also associated with being overweight, also restricting blood flow to the penis. Diabetes by itself is not usually the sole cause, however, with other causes, it can contribute to ed symptoms.
Alongside these diseases, injuries and damage from surgery may result in ed. If you have experienced a significant injury to your genitals, see a doctor as soon as possible so that they can diagnose if you have any problems. Treatment for cancer may also contribute to ed and can be resolved by consulting your doctor. They can provide you with ways to work around the treatment, allowing you to live your life as usual.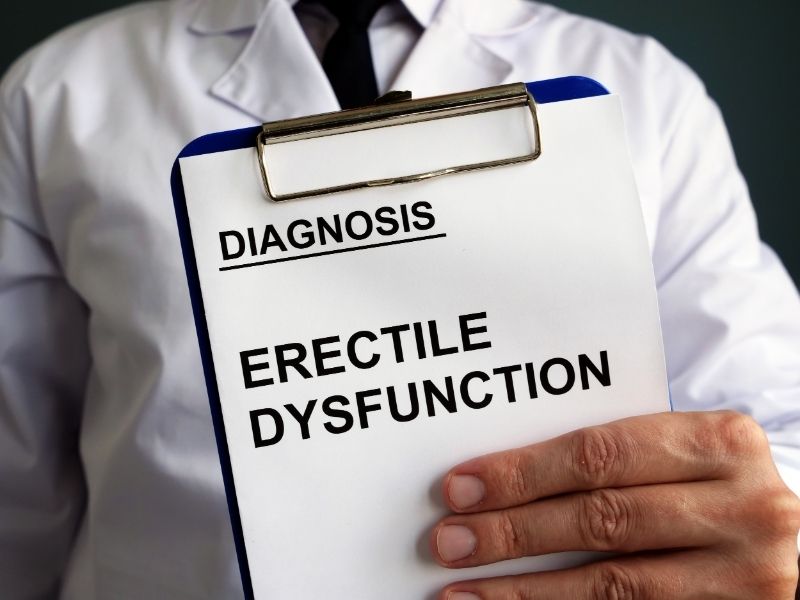 Whilst many people may associate erectile dysfunction as a physical condition, your emotions can have a significant impact on your symptoms. In particular, stress has a significant impact, with stress directly causing the symptoms. By reducing your levels of stress, you can reduce the symptoms that you are displaying. Alongside stress, anxiety can also be a common cause. If the issue is reoccurring, you may feel anxious about the situation. This can spiral, resulting in even greater symptoms. Talk to one of our team today and discuss how we can provide you with the emotional support you need to recover.
ED can be caused by any number of these factors, or several at once. It is also caused by lifestyles such as excessive drinking or drug-taking. Drop by our male ed clinic today so that we can discover the root cause of your ed. The sooner you come in for a consultation, the sooner we can help you recover.
Erectile Dysfunction Test In Singapore
To develop a treatment plan, it is necessary to perform an erectile dysfunction test in Singapore. With the test, the causes of ED can be determined for effective treatment. At an erectile dysfunction clinic in Singapore, the doctor reviews your medical history and performs an in-depth physical examination. They might ask you specific questions regarding your sexual history and relationship. Since these questions are quite personal and private, you might find them intrusive, but it is a part of your assessment, so be honest about it.
After physical examination at male ED clinics, the doctor asks the patient to go through an erectile dysfunction test in Singapore to diagnose the condition further. These tests for ED include:
Blood tests, including CBC count, glucose level, and lipid profile, etc.
Urine test
Duplex ultrasound
Nocturnal penile tumescence (NPT)
Vasoactive injection test
These tests are helpful for  the diagnosis of ED. At our erectile dysfunction clinic in Singapore, we make sure to tailor the examination, testing, and treatment for ED as per the individual profile.
Frequently Asked Questions